Meeting Benches, welcomes the season of truth, with five short poems unpublished.
Marc Chagall, anemones.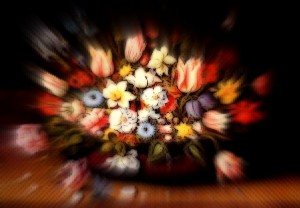 RENEWED TENDERNESS: Truth that enchants in smiling vitality, between returns home, surrounded by the smells of the earth. Rose-colored clouds above the fears, warm auroras, embracing new tenderness.
HAWTHORN:Enclosing thorns kind, that is not more wind, but only the breeze, fondling under a little rain the whiteness of white.
CHAINS SCENTED: When the cages of fear, crossing the border of feeling violated, their color bars become, and chains, fragrant necklaces become, far too cold winters, and beside the warmth of cherished hopes.
FRUITFUL SWEETNESS: Pearls of dew new, fertilize sweetness that transfigures, while wriggling you chutes smiling, with your fears.
SINGING STRANGER: Awakening in gentle warmth, he comes singing, while the finches tell what you still do not know.